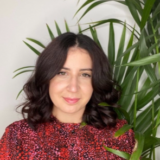 I graduated from Knowadays in 2020 and have since provided high-quality work for their partner company, Proofed. With a BA in linguistics and French and an MA in applied linguistics and TESOL, I have always had a passion for language and helping others reach their full potential.
As an ESL teacher, I have gained a deeper appreciation for language and the importance of expressing oneself effectively. Since joining Proofed, I have worked on various projects, including writing weekly blog posts for Knowadays, creating engaging social media content for Proofed's LinkedIn page, editing Indeed.com articles for CopyPress, and editing translated fiction intended for audiobooks for PocketFM.
Whether proofreading, editing, or writing, I am dedicated to helping people communicate their thoughts and ideas in the best way possible. I am excited to take on new challenges and continue growing professionally.