Taking a course with us means taking the first step towards a bright new career.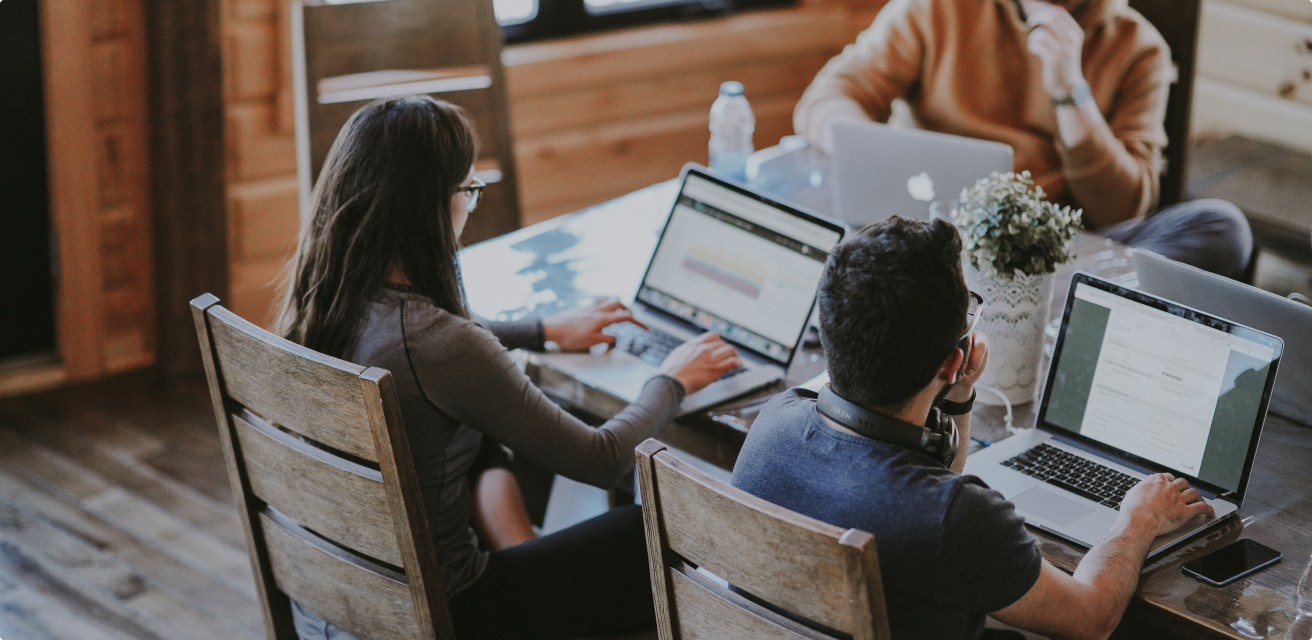 Equip yourself with the skills you need
Working flexibly, earning extra income, and calling the shots on your own career all start with the right skills. That's where Knowadays courses come in.
Meet the team
Knowadays courses might happen online, but your learning is backed by real-life support. Our experienced tutors have a wealth of professional knowledge. With their friendly guidance, feedback, and reassurance, your goals are within reach.
Learn from the experts
We used to be called Proofreading Academy and were known for our respected flagship course Becoming A Proofreader. Nowadays, we're on the next leg of our journey, and you can call us Knowadays.
We combine our expertise in both content and the online learning experience to bring you focused and effective courses. You'll graduate with the skills and confidence you need to kick off a new way of working. Hundreds of successful students have transformed their professional lives – see their stories here.
Alex is a father of 2 (cats), a melomaniac, a movie and videogames geek and a digital nomad on-the-road wannabe. He recently returned to sunny Valencia in Spain after 6 years working as a graphic designer in mighty Scotland, which will always be his second home. Alex is an expert on branding, corporate identity and visual communication, and is currently coursing a UX/UI.

Becca was born in Liverpool, grew up in Belfast, and now lives in Carlisle. Her accent is confused. She completed a BA in performing arts in 2008 and worked in bars, offices, and cafes before turning to proofreading. A lifelong book lover with a skill for spotting errors (in signs, menus, and her husband's poetry, which is met with equal outrage and gratitude), Becca enrolled in Becoming A Proofreader in early 2020, went on to work with Proofed, and joined the Knowadays team in January 2021.

Becca enjoys bouldering, both indoors and on real rock, as well as ploughing, planting, and picking at her allotment (plus pickling and preserving the produce). She also enjoys alliteration.

Originally from a little Saxon town in Wiltshire, Bethan spent five years in Cardiff obtaining a first-class degree in English Literature, an MA in Creative Writing, and a smattering of dubiously-pronounced Welsh. In addition to writing her own poetry and short stories she has delivered a variety of creative writing workshops, and edits fiction on a freelance basis.

Since moving back to England, Bethan has had a variety of jobs, the most recent being based in a Tudor castle. This has provided some excellent material for her current projects, which include a historical fantasy novel and a blog about folklore and hauntings across Britain.

Ellie grew up in North East Scotland but is now based in London. She joined Knowadays back in 2021, first working in the customer service team and now helping Knowadays develop future courses. Alongside her work for Knowdays, Ellie is completing a PhD in history, researching imperialism, decolonisation and independence movements in Anglophone Caribbean and Britain.

Although she loves all things history, in her free time Ellie also has a passion for reading, food (both cooking and eating), running and travelling.

Emily was born in New York but moved to Scottsdale, Arizona, as a teenager. After returning to the East Coast for college, she received a degree in English in 2007 and a master's in education in 2010. She worked in early childhood education for a number of years before deciding to pursue a career as a proofreader after her daughters were born.

Emily completed Becoming A Proofreader in early 2021 and is thrilled to now be working as a Knowadays tutor alongside her work at Proofed! In her spare time, she enjoys taking her
kids to the park, teaching Hebrew school, and attempting to bake.

Jenny joined Proofed in 2019 as an editor after completing Becoming A Proofreader, during what she calls 'the side gig era' alongside her full-time job. She then worked for Proofed in operations before moving to Knowadays as a tutor in April 2023. Her background spans classical studies, teaching English in Spain, and a former career in jewellery and diamond sales. She lives in London.

Jenny is currently aiming to brush up on her Latin, finish an intercultural studies course, and learn more about wine. She is also failing at learning Swedish and modern Greek and reading the enormous piles of books she has. She knows that, despite this, she will still buy more.

Jess

Content Marketing Specialist

Jess has a BA in English literature from the University of Bristol and a level 4 apprenticeship in PR and communications from the Cambridge Marketing College. Before joining Knowadays in 2021, Jess spent a couple of years honing her writing skills working as part of a busy local government communications team and creating content for an online retailer specialising in vintage and classic books.

In her free time, Jess enjoys reading (especially historical fiction and fantasy), walking in the beautiful Gloucestershire countryside, seeing live music, and going to the pub with friends. She has an ever-growing collection of houseplants, including cactuses in a variety of shapes and sizes.

Jude joined Knowadays back in 2021 after graduating from Sussex University. During his time there, he began developing his pedagogical skills by working on research projects in schools around Brighton. These days, he's using those skills to help people advance their careers through industry-leading courses.

Outside of work, Jude is a lover of all things music – be it playing, listening, or seeing it live. Perhaps one day he will help us to create a musicians masterclass!

Kiran Chauhan is a visionary entrepreneur and accomplished business leader with a passion for operations and finance. As the COO and co-founder of Knowadays, Kiran has demonstrated exceptional leadership skills and business acumen, helping the company go from strength to strength since its inception in 2017.

Kiran's expertise in operations and finance has been honed through years of experience working with start-ups and events, including the London 2012 Olympics. He is a natural problem solver and has a proven track record of making things run smoothly.

Laura's professional life began in analytical science. After a seven-year hiatus spent giving birth to and hanging out with two small humans, she looked for work that would allow her to help others. This saw her supporting school children with their learning and prison leavers with making positive changes in their lives. Seeking a healthier work–life balance, she took the Becoming A Proofreader course and passed with distinction. She now loves making writing shine so that people can express themselves with clarity and confidence. As a Knowadays tutor, she feels privileged to help others to achieve their proofreading goals. She is also very fond of musical theatre (watching, not performing!).

Based in British Columbia, Canada, Mandy took the Becoming A Proofreader course in 2018 and since then has been working part-time as a proofreader with Proofed and as a Knowadays tutor. She very much enjoys the behind-the-scenes work at Knowadays and working with a great team.

Mandy has enjoyed travelling and working in new places, but her first home will always be Scotland where she was born and brought up. She has a medical degree from Glasgow University and works part-time in healthcare. Mandy loves reading, hiking and running long distances on the trails, and watching and photographing wildlife, especially birds. She also does volunteer work with a wildlife rescue organisation.

Marta

Content Marketing Strategist

Originally from Poland, Marta lived on three different continents before settling down in Barcelona, Spain, where she enjoys beach life with her husband and a happy toddler, Sofia.

With over 16 years submerged in the growth marketing world, Marta enjoys building genuine relationships, telling inspirational stories, and offering resources that are truly helpful to people. Her favorite type of marketing doesn't look or feel like marketing. At Knowadays, Marta helps scale inbound marketing channels.

When Marta is not in the land of marketing, you'll find her singing or photographing people and, most recently, striving for change and reducing plastic waste via her side project, Refill Aqua.

Myra has a BA in sociology and an MA in TESL. After a short career in the printing and copy industry, she became a teacher of English and academic writing, working in China, South Korea, Puerto Rico, and Mexico. She also spent her years abroad in travel research and writing and in managing study-abroad programs. Currently, she lives in Washington state until she truly becomes a digital nomad.

Working with writers and academics in other countries, Myra has seen language be a barrier to sharing knowledge. Becoming A Proofreader has helped her hone the skills to help more writers make their work accessible to a wider audience. In addition to working with Knowadays and Proofed, she enjoys exploring food and culture, walking, watching movies, reading books with a view on other cultures, and dabbling in yoga and ballroom dancing.

Sammie

Instructional Designer

Currently based in Sussex, Sammie joined the Knowadays team in January 2022. With a BA in illustration and animation from Coventry University and an MA in 3D computer animation from Bournemouth University, she helps to add the creative and visually engaging elements to Knowadays courses.

Outside of Knowadays, Sammie still loves to work on all things animation, from drawing to producing 3D models for short films and video games. She likes to unwind by playing video games and taking care of her zoo, which includes her dog, rabbit, and cats, as well as the garden hedgehog! She also loves to travel and volunteer for work abroad – from Romania to New York, she'll go anywhere if asked!

Simon has had an eclectic career working in labor relations, information management, and stakeholder relations for a major infrastructure project in Vietnam. He has a BA in sociology and an MA in media and communications.

Simon has always enjoyed cogitating and pottering around with words, so in 2020, he decided to take the plunge and hone his skills with the Becoming A Proofreader course.

Living proof that you can combine editing, proofreading, traveling, and a hopefully stable internet connection, Simon is now firmly ensconced in Latin America. Always a passionate traveler, he has been to over 60 countries and hopes to visit a few more.

William "Wiv" Hannay is Knowadays' CEO, but he often thinks this should stand for Cheerleader ExtraOrdinaire, given the job is often just cheering on an incredibly high performing team and staying out of their way.

Wiv initially joined Knowadays as an early investor and board member, following an eight-year career in management consulting working on cross-border M&A deals, supporting Fortune 500 companies and private equity investors.

The pivot from management consulting and due diligence – a world of one-time deals with a revolving door of projects – to leading a team focused on growing something that has a long-term impact has been a welcome change. To work with colleagues who are obsessed with helping learners achieve their goals is the opportunity of a lifetime.

Wiv received an MBA from Columbia and London Business Schools and a BSBA in finance from Georgetown University. In his spare time, he enjoys traveling with his family, endurance sports (Ironman 70.3 finisher), a squash or chess game with friends, and, as an American now enjoying London life, a pint at the pub.
Knowadays is a UK-registered company. Find us at:
Knowadays, LTD
59-60 Russell Square
London
WC1B 4HP
Phone number: +1 888-851-7822
Company No. 12368022
VAT No. 365742573