Taking a course with us means taking the first step towards a bright new career.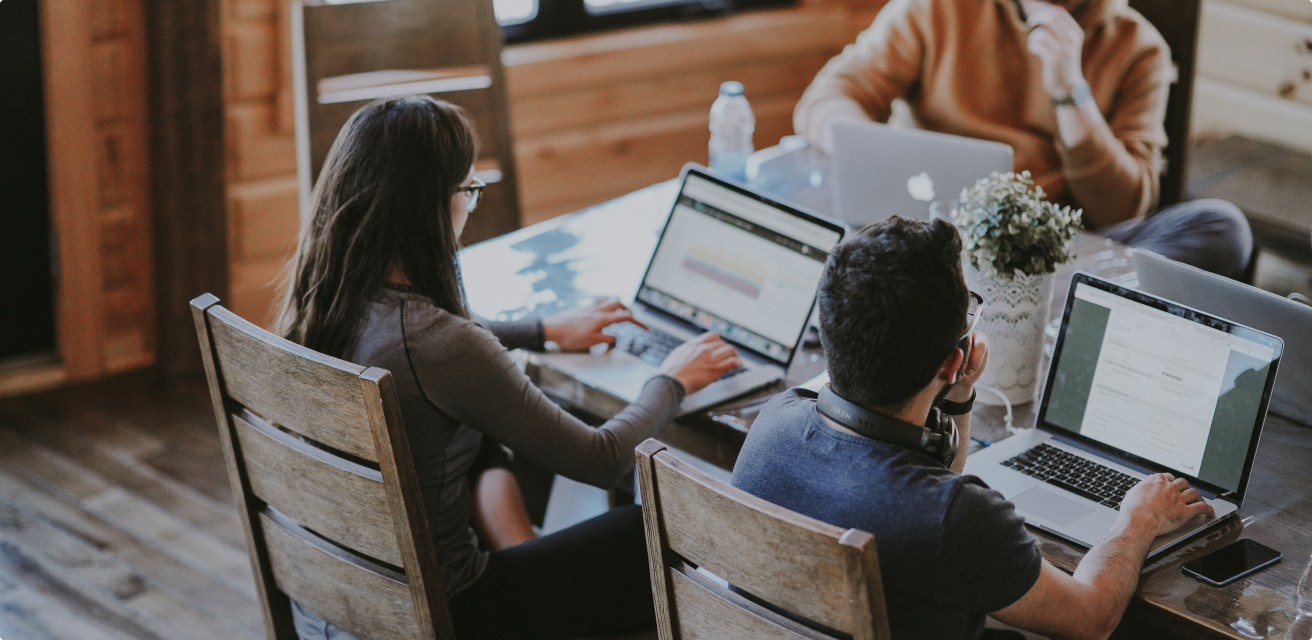 Equip yourself with the skills you need
Working flexibly, earning extra income, and calling the shots on your own career all start with the right skills. That's where Knowadays courses come in.
Meet the team
Knowadays courses might happen online, but your learning is backed by real-life support. Our experienced tutors have a wealth of professional knowledge. With their friendly guidance, feedback, and reassurance, your goals are within reach.
Learn from the experts
We used to be called Proofreading Academy and were known for our respected flagship course Becoming A Proofreader. Nowadays, we're on the next leg of our journey, and you can call us Knowadays.
We combine our expertise in both content and the online learning experience to bring you focused and effective courses. You'll graduate with the skills and confidence you need to kick off a new way of working. Hundreds of successful students have transformed their professional lives – see their stories here.
Becca was born in Liverpool, grew up in Belfast, and now lives in Carlisle. Her accent cannot decide where it belongs. She graduated with a BA in Performing Arts in 2008, but her career roamed through bars, offices and cafes before turning towards proofreading. A lifelong love of reading developed into a skill for spotting errors in any type of writing: on signs, in menus, and in her husband's poetry, which is met with a mixed response. Becca enrolled on the Becoming a Proofreader course in early 2020 and then began work as a freelance editor with Proofed, proofreading everything from essays on Lolita fashion to articles on duck viruses. It's all grist to the mill of general-knowledge quizzes.

Outside of work, Becca can be found performing other people's poetry at the longstanding SpeakEasy open-mic night as well as other performance events, and she is part of a local theatre group. When not in the mood for literary pursuits, she enjoys bouldering, both in an indoor climbing centre and on various slabs of rock around Cumbria, as well as ploughing, planting and picking at her allotment (plus pickling and preserving the produce). She also enjoys alliteration.

Myra has a BA in Sociology with additional study in Environmental and Urban Planning, and an MA in Teaching English as a Second Language. After a short career in the printing and copy industry, Myra began teaching English and academic writing in China followed by Korea, Puerto Rico, and Mexico. After another 5+ years in China, she took up residence (at least temporarily) in Washington state. Besides teaching English, Myra spent her years abroad in travel research and writing and the development and management of academic study abroad programs. Working in universities in other countries, she has seen how language can be a barrier to sharing knowledge.

The pandemic of 2020 has been an opportunity to hone her skills to help writers around the world make their research and writing accessible to a broader audience. When not tutoring with Knowadays or proofreading documents for Proofed, she enjoys exploring food and culture, watching movies, reading books with a view on other cultures, and dabbling in yoga and ballroom dancing. She dreams of someday making a long-distance journey on foot.

Based in London, Ellie has an MA in Global History and is currently pursuing a PhD focused on decolonisation in the British Empire. Although history is clearly a passion, Ellie also has over five years of experience working in client services. In particular, she has worked at a number of digital agencies supporting a range of businesses, from charities to public sector organisations, achieve their digital and technical goals. Technology is therefore also a real interest of hers, especially where it intersects with society and politics. Her client services experience has now led Ellie to Knowadays, where she is part of the Customer Service team.

In her spare time, Ellie loves to read, work-out, and cook. She's also a big fan of travelling, so she's hoping to get back to this at some point in 2021.

Based in Detroit, Michigan, U.S.A., John took the Becoming a Proofreader course in 2019 and now proofreads and edits for private clients, along with working as a tutor part time here at Knowadays. He very much enjoys helping budding proofreaders from all over the world on their journey to become professionals.

John is also attending school in pursuit of a new career as a freelance court reporter and works part time as a freelance transcriptionist. He received a bachelor's degree in English at Michigan State University and is a certified teacher of English as a foreign language, teaching in Greece and Japan. He also worked for many years with a company that provides representation to Social Security Disability claimants. John enjoys learning foreign languages, long-distance running, cooking, and acting in local theatre productions.

A few years ago Mandy started writing a blog and discovered a love of words and grammar; this led to her taking a few writing and editing courses and gaining a proofreading qualification. While looking for information on working professionally, she came across Becoming A Proofreader, signed up, loved it, passed, and, in April 2018, started working with Proofed as a professional proofreader. In December 2018 she joined the Proofreading Academy admin team.

Mandy loves reading, running long distances on the trails and in the mountains, and travelling; she has worked in a few countries and now lives in Canada. She has a medical degree and works part-time in healthcare.

Simon has a BA in Sociology and an MA in Media and Communications. He has had an eclectic career and worked in labour relations, consulted in information management, and served as a communications manager for an international social performance company. Many moons ago, he even produced a television stand-up comedy show!

Over the years, people have often commandeered Simon to edit various documents. This got him thinking, so in 2020 he decided to hone his skills with the Becoming A Proofreader course. He can be a bit of a perfectionist and enjoys finessing language to make a document shine.

In his spare time, Simon likes working out, jazz, current affairs, and settling down with a glass of wine and Netflix. Simon has always been a passionate traveller: he has visited almost a third of the world's countries and hopes to steadily work towards half.

Based in Gloucestershire, Jess has a BA in English Literature from the University of Bristol, and recently completed an Apprenticeship in PR and Communications with the Cambridge Marketing College. Before joining Knowadays, Jess spent a couple of years honing her writing skills as part of a busy local government communications team, as well as creating content for an online retailer specialising in vintage and classic books.

In her free time, Jess enjoys reading (especially historical fiction and fantasy), walking in the beautiful Gloucestershire countryside, seeing live music, visiting heritage sites and museums, and going to the pub with friends. She also has an ever-growing collection of house plants, including several cactuses in a variety of different shapes and sizes.

Originally from a little Saxon town in Wiltshire, Bethan spent five years in Cardiff obtaining a first-class degree in English Literature, an MA in Creative Writing, and a smattering of dubiously-pronounced Welsh. In addition to writing her own poetry and short stories she has delivered a variety of creative writing workshops, and edits fiction on a freelance basis.

Since moving back to England, Bethan has had a variety of jobs, the most recent being based in a Tudor castle. This has provided some excellent material for her current projects, which include a historical fantasy novel and a blog about folklore and hauntings across Britain.

When not tapping away on her laptop, Bethan enjoys making art, hiking with her fiancé and spending many patient hours photographing wildlife. The natural world inspires her creativity, and she would love to one day produce an illustrated collection of zoological-themed poetry. She will also gladly talk your ear off about dinosaurs.

Jude is an easy-going and charismatic young man who joined Knowadays back in 2021 after graduating from Sussex University. During his time at university, Jude began developing his pedagogical expertise by working on research projects and in schools around Brighton. These days, he's bringing his skills to help people advance their careers through industry-leading courses.

Outside of helping develop courses for Knowadays, Jude is a lover of all things music – be it playing, going to a gig or listening to some records. Perhaps one day he will help us to create a musicians masterclass!

Alex is a father of 2 (cats), a melomaniac, a movie and videogames geek and a digital nomad on-the-road wannabe. He recently returned to sunny Valencia in Spain after 6 years working as a graphic designer in mighty Scotland, which will always be his second home. Alex is an expert on branding, corporate identity and visual communication, and is currently coursing a UX/UI.
Knowadays is a UK-registered company. Find us at:
Knowadays, LTD
59-60 Russell Square
London
WC1B 4HP

Company No. 12368022
Phone number: +1 888-851-7822