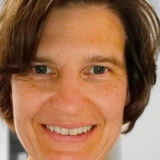 I have long been a word and grammar enthusiast. After 25 years as a lawyer, and better late than never, I made the leap from writing advice on the laws of the land to advice on polishing prose. I did my initial training in proofreading and editing with Proofreading Academy (now Knowadays), gaining a distinction in the Becoming A Proofreader course. I followed that up with training in fiction editing with the Chartered Institute of Editing and Proofreading, better known as CIEP.
I now work freelance, editing and writing for Proofed as well as writing for Knowadays – the promise of work really has been kept! – and as a fiction editor for independent authors.
I keep hoping that the novel that's rumoured to be inside each of us will eventually make its way out of my head and onto the page; while I wait, I continue my daily journal, which I've kept since I was at school (much longer ago than I like to admit).