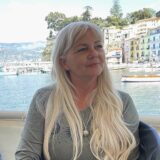 Originally from California, I graduated from the University of Hawaii and worked as a registered dental hygienist and a real estate broker. With a knack for writing and a lifelong love of the written word, I decided to pursue a career where I could release my creativity and have the freedom to let my writing capabilities flow. So I completed the Knowadays Freelance Writer course, with a distinction score, and started my freelance writing career.
I'm now a very happy copywriter based in Frankfurt, Germany, and I provide copywriting services to the healthcare, travel, and real estate markets. I proudly offer authentic and concise content with a focus on blog posts, how-to guides, brand awareness articles, product descriptions, home listings for real estate, white papers, clinical and case studies, and listicles.
In my free time I enjoy traveling and exploring on my trusty e-bike. I dabble a bit in amateur photography and have an unquenchable fascination for medieval castles and cathedrals.